Red Brick Museum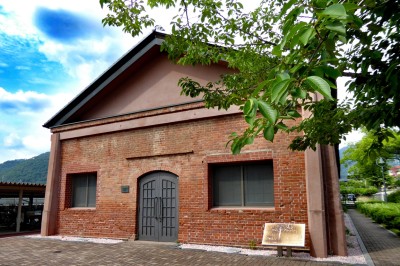 What is the Red Brick Hall (Akarengakan)?
History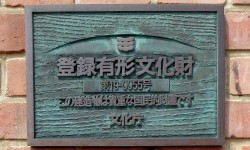 The Red Brick Hall (Akarengakan) began as a food storage warehouse for the 49th Infantry Regiment (commonly known as the Kofu Regiment) in April 1909.
  After World War II ended, in December of 1949, the former 49th Regiment site came to be used for elementary and junior high schools affiliated with the Faculty of Arts and Sciences of the University of Yamanashi, and while other buildings were demolished and rebuilt, the Red Brick Hall remained in use as a part of the affiliated junior high school.
  In 1998, heavy snowfall damaged a part of the building.  Following this, a movement to preserve the building gained momentum, and after seismic refitting, in 2002 the present Red Brick Hall was completed, preserving its former image.
Features
  The Red Brick Hall is a one-story red brick building built around 1908, with an area of around 330.6 m², a width of around 9.1 meters and a depth of 36.4 meters.
 The bricks of the outer wall are locally produced Koshu red bricks, and are stacked in a Dutch stacking style, which was rare at that time.
  With arched doorways and windows, a wooden frame truss structure, and a Japanese tiled roof, it is one of the largest existing Western-style brick buildings from the Meiji era in Yamanashi Prefecture.
Historical Materials Exhibition Room
  In the Historical Materials Exhibition Room, materials related to the Faculty of Education and Human Sciences of the University of Yamanashi are exhibited.  Diagrams and photographs, instruments and tools that were previously used, and documents and books tell the story of the evolution from its beginnings at the end of the 18th century as the Kofu Gakuinsho to the present day.
Details and explanation of main exhibits (PDF)(Japanese)
Community Hall
 The Community Hall is a building of about 8×20 meters, used to hold various exhibitions and events related to the University of Yamanashi.
Inquiries about the Red Brick Hall
General Affairs Department, General Affairs Division
T E L: 055-220-8004
F A X: 055-220-8799
E-mail: soumuk@yamanashi.ac.jp